Licensed International Judges

JAN CAMPBELL
All Breeds and Best in Show
FCI judge number 19591

KEN CAMPBELL
Terrier Specialist and Gundogs (Sporting Group, USA) -
FCI Judge number 17913 Groups 3, 7 & 8
Ch Foxdynasty Traveller (Darcy)
Sire: MBISS Ch Optimo Ona Jetstream AI x Franwayn Jeans Delight
BEST IN SHOW
Fox Terrier Club of Victoria Championship Show June 2018
Judge Mr Sergey Nikulin (Russia)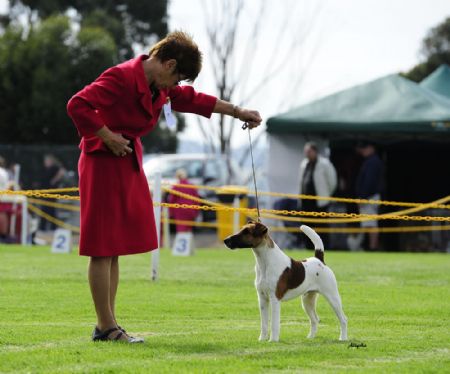 Darcy was best Smooth Fox Terrier dog at the 2013 Melbourne Royal show and again at The Fox Terrier Club of Victoria and Sporting Terrier Club of Victoria Championship Shows, June 2014. Darcy is a consistent winner of his class and has multi in show and in group awards.


TEXFORRIER GREAT GATSBY (LEO)
(Imported Finland)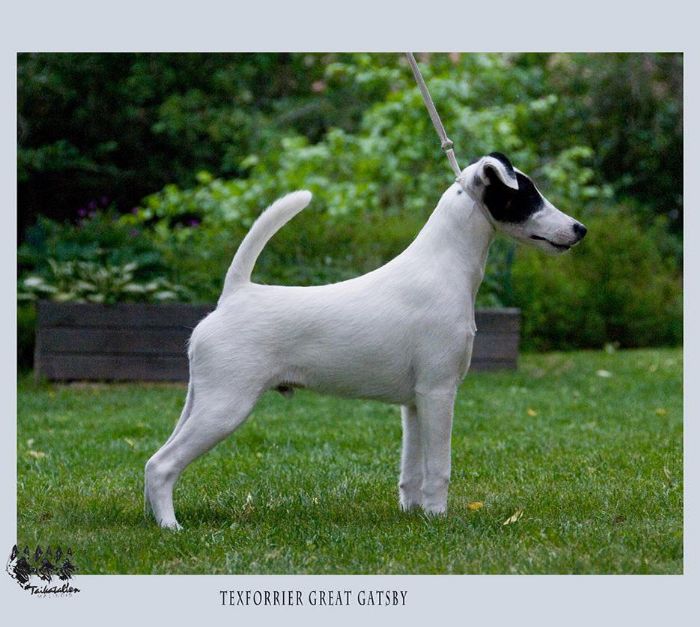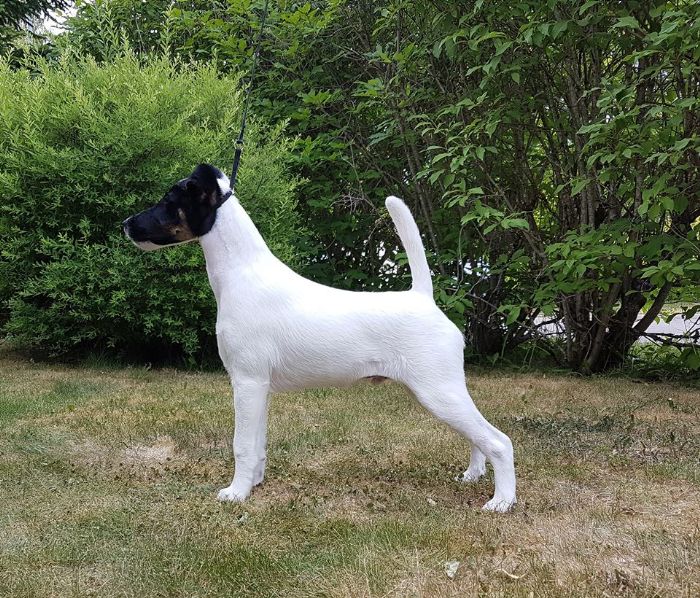 Sire: Am Ch Lil'itch Gameon x Dam: Multi & Int Ch Optimo Optical Illusion

Leo is available at stud to approved bitches.
Ch Optimo On Wings of Sunrise (Ruth)
BEST IN SHOW
British Terrier Club, October 2016
Breed Specialist judge Mr Ken Sheppard.
RUNNER UP BEST IN SHOW
Best bitch and Puppy in Show
Fox Terrier Club of Victoria Championship show
International Terrier judge Mr Wood Wornall (USA). 11 June 2016.
Ruth gained her Champion title at just 9 months of age with some stunning wins from the puppy classes over much older dogs.
BEST BITCH
FOX TERRIER CLUB OF VICTORIA CHAMPIONSHIP SHOW 2018
Judge Mr Sergey Nikulin (Russia)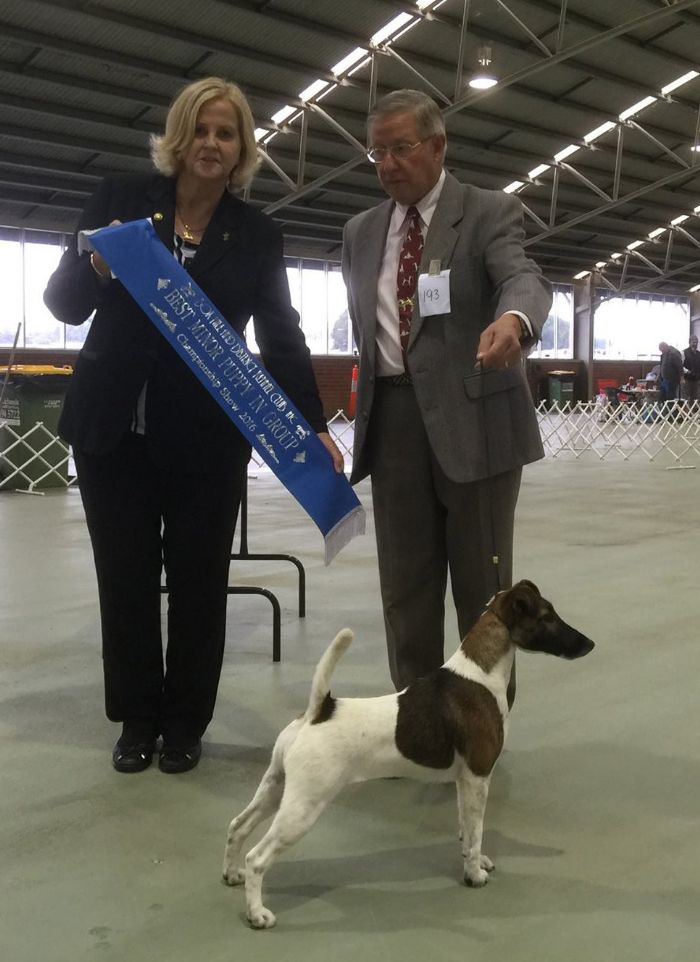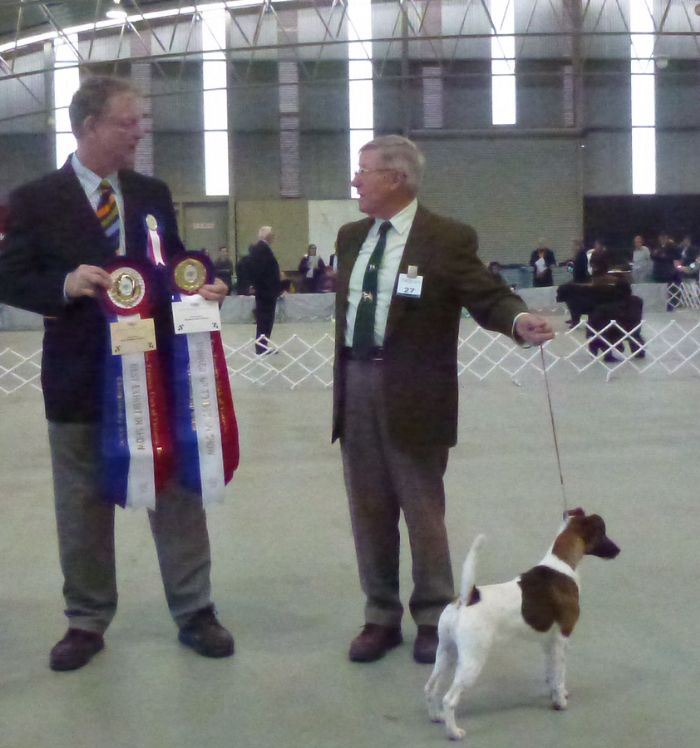 Ch Optimo Once Ina Blue Moon (Pearl)

MULTI BEST IN GROUP WINNER
Pearl was Best of Breed at Royal Sydney Easter Show in 2016
from an entry of approx. 40 Smooth Fox Terriers
under international Breed Specialist Mr Geoff Corish (UK).
Pearls critique:
The bitch, tan and white, beautiful shape, beautiful outline,
very sound coming and going, beautiful legs and feet,
excellent head and expression.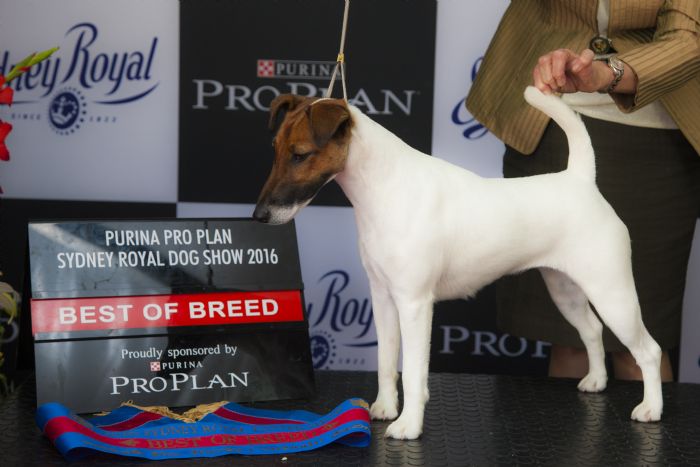 +++ Our New Champion+++
Ch Optimo Our Sunrise Memories (Bobby)
Bobby has many in show awards and multi BIGs under strong competition.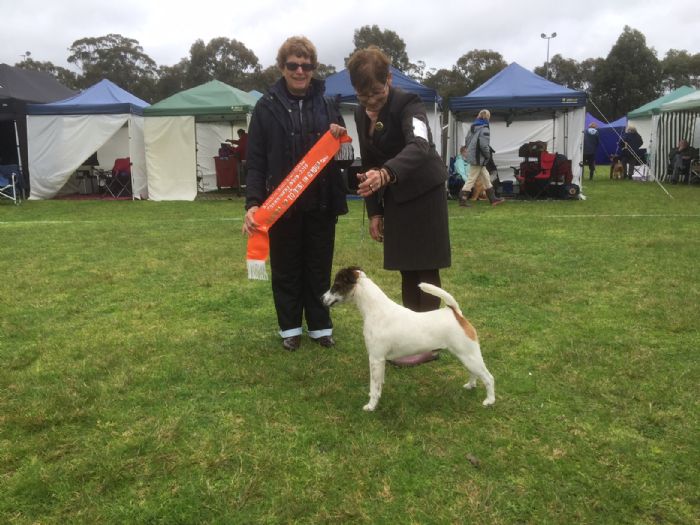 Ch Sundar Star of Sunshine (Checkers)

BEST OF BREED & PUPPY IN SHOW
National Terrier Show, Canberra July 2018
Under international Terrier Specialist judge Mr Geir Flyckt-Pedersen (USA)

Checkers is having a very successful time showing with multi In Show and group awards.
Number 1 Rising Star Smooth Fox Terrier in Victoria 2018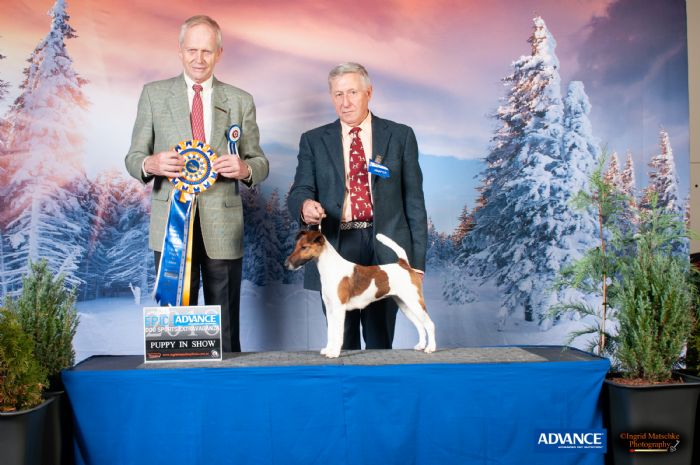 Aust, Fin, Swed & Czech Ch,
WW-14 EUW-14 SEW-14 FIW-14 HEW-14
Optimo Optical Illusion (Lucie)
#2 All Breeds Finland 2015
#1 Terrier in Finland 2015*
#1 FT Bitch in Australia 2013
#1 Rising Star Terrier in Victoria*

Best Exhibit in Show
Fox Terrier Club of Victoria Championship show June 2014.
Judge Ms Liselotte Johansson (Sweden).

"Best exhibit in show, Best of breed and bitch challenge winner was the intermediate bitch
Ch Optimo Optical Illusion. All white with a tan head. What a lovely bitch! Lovely size. Well balanced. Beautiful neck and front, standing well over her front legs. Nice tight feet. Beautiful head and expression. Good underjaw. Short back. Correct angulation behind with a well let down hock. Moved very well. Excellent coat and condition. Would have loved to own her."
World Terrier Show, Finland, August 2014
Best of Breed

World Dog Show, Finland, August 2014
CACIB & World Winner title
Puppy in Group
Hobart Royal Show October 2012
Judge: Mr Frank Kane (UK)

Lucie had a wonderful show career in Australia and is now with Molli Nyman and Sari Laitinen in Finland continuing her career with great success.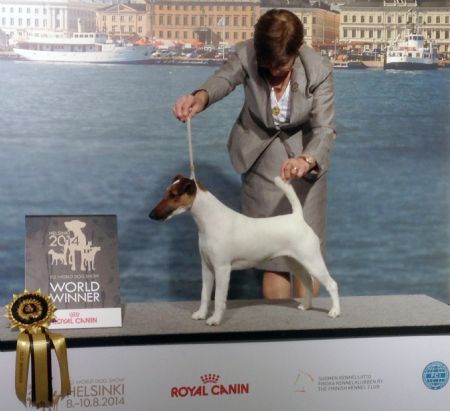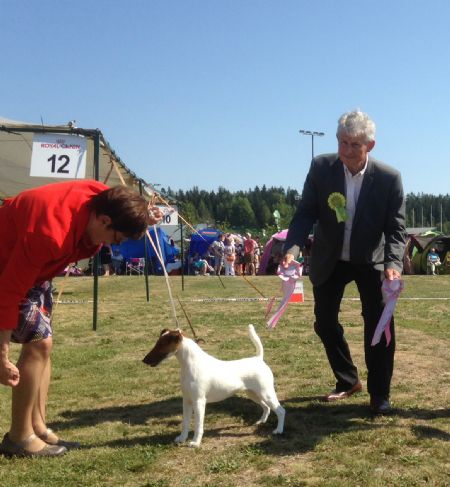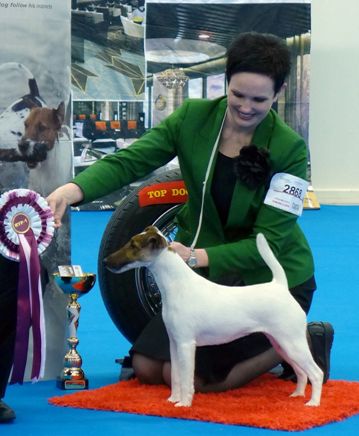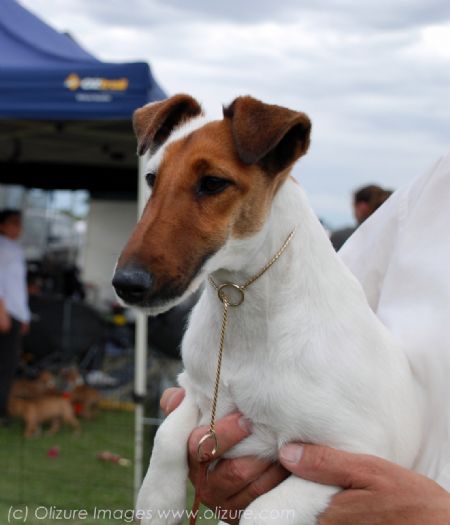 Sire: NZ & Aust Supreme Ch Pinnacle Kiwi Made (Imp NZ) x Dam: Supreme Ch Optimo Ona Moonbeam
#1 Smooth Fox Terrier in Australia 2012 and 2013*

Multi BIS
NZ / Aust. Supreme Ch Pinnacle Kiwi Made (Imp. NZ)

Best In Group Royal Hobart Show - October 2012
Judge Mr Frank Kane (UK)

Kiwi gained his Australian title under 5 weeks with multi Best in group wins under Terrier specialists.

Best Smooth Dog at the Fox Terrier Club of Victoria Specialty Show.
Breed Specialist Judge Dr Carola Mohrke (Germany).
September 2011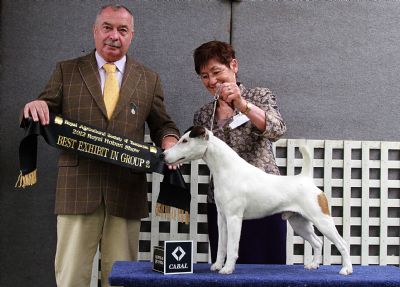 Sire: NZ Ch Laurelton Touch of Destiny (Imp. USA) x Dam: NZ Ch Pinnacle Super Brat.
Kiwi is co owned by Ken and Jan Campbell and Sandy Evans.
**** One of the World's Great Fox Terriers (Luc Detry) ****

Multi BISS Ch Optimo Ona Jetstream (Jet)
BEST IN SHOW
Fox Terrier Club of Victoria
60th Diamond Jubilee Championship Show (AM) 20th Sept. 2008
Judge: Antonia Thornton (Watteau, UK)
Total entry 73
"An upstanding, squarely built dog of great charisma.
Lovely head and expression, great reach of neck into well laid shoulder, good spring of rib, level topline and a good set on.
Excellent bone, legs and feet and a cracking good mover.
He shows so very well that it would be difficult to ignore him
and I feel certain he would be a big winner anywhere in the world."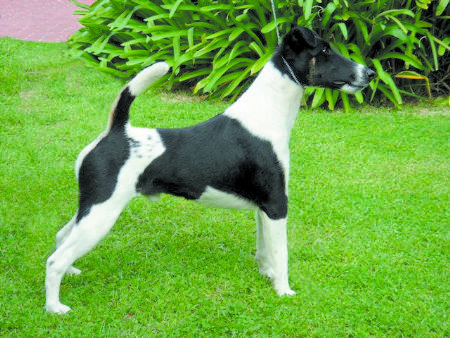 Sire: Am Ch Sunrise Memories of Mansevale, JE x Dam: Aust Ch Optimo Only a Game

Best of Breed, Fox Terrier Club of Victoria Specialty
September 2009
Judge: Benny Blid (Sweden)
Total entry of 50 Smooth Fox Terriers
Best in Show, Fox Terrier Club of NSW Specialty
13th October 2007
Judge: Wayne Lewis (NSW)
Total entry of 53 Smooth Fox Terriers
Best of Breed, Fox Terrier Club of Victoria Specialty
23rd September 2006
Judge: Luc Detry (Belgium)
...The best Black and White I have seen since the dream generation of UK Champions ...
He has all the potential to become a great champion everywhere in the world.
-Luc Detry, Belfox Prefix, September 2006
Total entry of 61 Smooth Fox Terriers
*** BEST IN SHOW ***
Multi BISS Ch Sashgar Sunrise Dreams AI, (Angel)
Angel was Best in show at the Smooth Fox Terrier Club of Victoria Specialty show in September 2011 and again in 2013 at the Fox Terrier Club of NSW.
She is a very consistent winner against elite competition.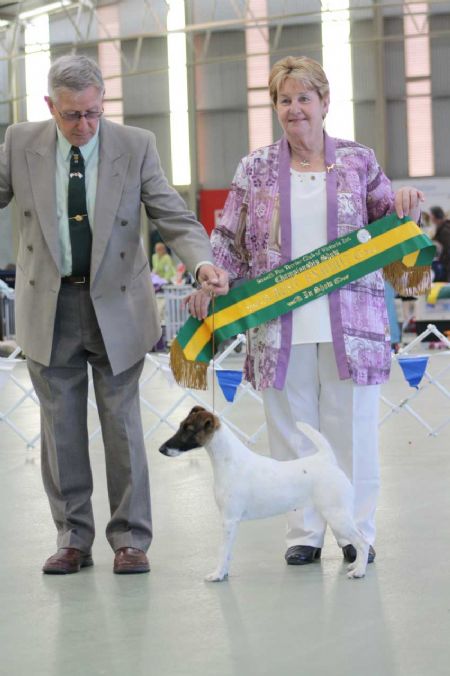 Links
Our Co-breeder in America - Sunrise Smooths
Molli Nyman - Texforrier, Finland
Pages Last modified
FRIDAY FEBRUARY 15th, 2019
*Dogzonline.

Note: All photos and information on this web site are copyright to the owners and may only be used or copied in any form with the prior permission of the owners.
127829 Visitors