Irish Terrier
Champion Madrarua Spud Murfy
1.6.93 - 2009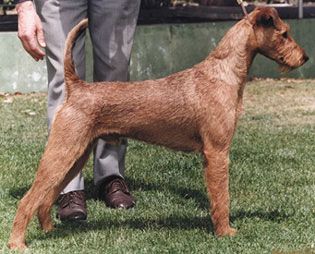 Top Irish Terrier
1995 and 1996
Sporting Terrier Club of Victoria, Australia, Top Terrier Competition.
In his only 2 appearances in 1997 he was best of breed at the Sporting Terrier Club of Victoria and at the Royal Melbourne Show, the 2 biggest Terrier Shows in Victoria under international judges who recognised his great breed type!
Spud made a great return to the Show ring in July 2002 at
9 years of age after an absence of 5 years and under international Terrier judge from Ireland Mrs Paddie Conway won a fantastic 12pt CC to show what an amazing show dog he was.
Spud was prepared and handled by Ken Campbell throughout his show career
and was loved by his "real" owner Jeff Roach, who was the best owner anyone could ask for. Thank you Jeff!